Wedding Thank You Cards
Make guests feel extra special with personalized wedding thank you cards.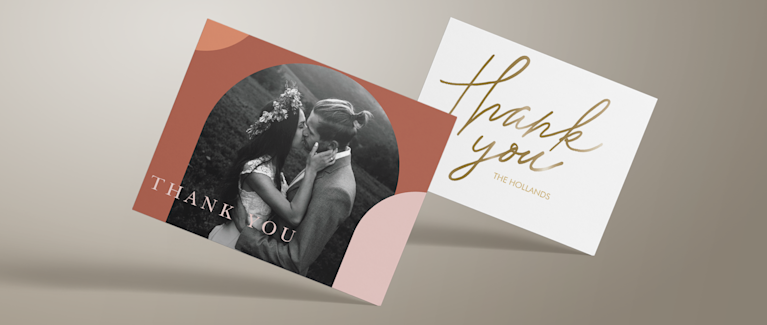 For their presence - and the *presents* - try wedding thank you notes.
From the bridesmaid who calms your nerves to the guests who start that conga line, it's your loved ones who make your wedding unforgettable. Show them all the love and keep the good vibes going with personalized wedding thank you cards. With our assortment of wedding thank you card templates, you'll find plenty of designs that not only match your theme but feel as unique as your union. Browse our gallery to find your favorite template. Once you've found the one, customize it with text and photos: To make it extra personal, you can even use snapshots from the big day. After you finalize your design and place your order, we'll professionally print, package and send the cards your way. Your wedding thank you notes will arrive looking sleek, polished and ready to delight guests.
Frequently Asked Questions
Yes. Before you've finished ordering your wedding thank yous, you'll have a chance to add envelopes. Please note that you'll receive one envelope for each card. If you'd like to skip the envelopes altogether, you'll have that option, too – that said, we do highly recommend adding envelopes to your order.
We're positive that we do! Many of our templates are designed to match or complement our wedding invitations. As you explore our options, you can view all of our wedding thank you cards together, or use our filters to sort by colour, style or theme.
Yes. With our Graphic Design Services, you can work with a professional designer to update one of our existing templates – color changes, design elements and more. And if you're interested in taking the design process to the next level with bespoke cards, we're excited to help bring your vision to life.
Yes. In our online studio, you'll be able to download a free digital proof, and as you design your own wedding thank yous, you can create as many proofs as you'd like. We want you to love the finished product!
We don't offer custom samples at this time – but you can order a small batch of 10 wedding thank you postcards. This is a cost-effective way to see and feel your cards in person before you fully commit. After reviewing the color and paper, reordering more is quick and easy. If you want to make any updates, you'll be able to edit your design in our studio. Either way, your order – and satisfaction – is absolutely guaranteed.
As a general rule, aim to send wedding thank you notes no later than three months after the ceremony. This gives you time to order and send your cards, and accounts for any gifts you might receive after the wedding. However, you might be surprised to find some gifts arriving before your wedding. Should this happen, be sure to send a wedding thank you card within two weeks of receiving the gift.
While "Thank you for the wedding gift!" is always a great start, we encourage you to be as personal as possible. In addition to a "Thank you!", be sure to mention the specific item and how you might use it. Don't focus just on gifts either: Include a small detail about the guest, whether it's a memory of them from the big day or a wish to see them again soon.
Product Options
Standard Matte
14pt
Uncoated cardstock, smooth surface for a crisp design and photo quality.
Feel: Lightweight, with a crisp, clean surface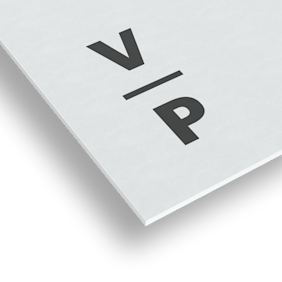 Premium Matte
16pt
Thick cardstock, a premium version of standard matte, option to add foil
Feel: Sturdy, with a crisp surface, adding foil creates a smooth finish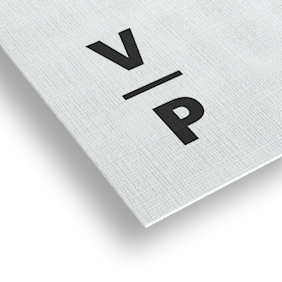 Linen
13pt
Woven from Italian cotton paper, best for elegant or classic designs.
Feel: Lightly woven texture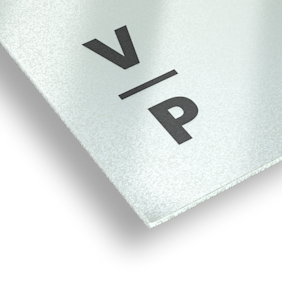 Pearl
16pt
Thicker paper, pearlescent sheen with a smooth, polished feel.
Feel: Soft, elegant finish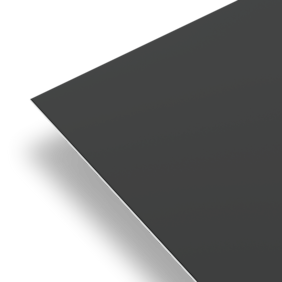 Standard
Traditional square corners offer a crisp, clean look.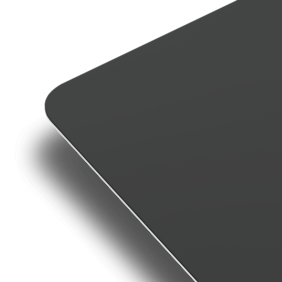 Rounded
A curved edge gives an unexpected modern touch.