Kids' Birthday Invitations
Dinos, mermaids, pirates...oh my! Find kids' birthday invitations for all the party themes.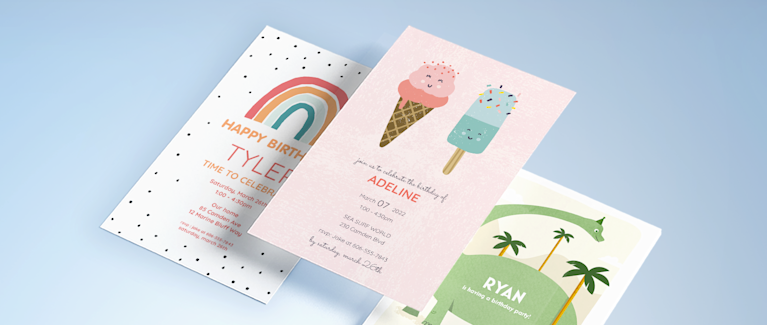 Make party planning easy - and fun - with on-theme kids' birthday invitations.
Hooray! You've picked a theme for your munchkin's birthday - or maybe you asked and they *fanatically* responded. Let's make those birthday wishes come true. Our birthday party invitations aren't just adorable, but happen to feature some of the most popular party themes for kids. You'll even find designs for special gatherings like sleepovers and pool parties. Best of all? They literally take minutes to customize. Start in our gallery, where you can filter kids' birthday invitation templates by color and style. Or plug your theme into the search bar to see our offerings. After selecting a template, just fill in the details – party times, location and other essential info. Place your order and we'll take it from there. We'll print, package and ship the final design right to your home. Your kids' birthday invitations will arrive crisp and colorful – and you'll have one less to-do on your list. Now on to the cake…
Frequently Asked Questions
Yes! Before placing your order, you'll have a chance to add envelopes. You can even choose colored envelopes or a custom design that complements your invite. Please note that you'll receive one envelope for each invite. You can also skip envelopes altogether.
Absolutely! With our Graphic Design Services, you can work with a professional designer to update one of our existing templates with unique colors and other design elements. And if you're interested in creating something totally unique for the party, we can help with that too.
Yes. In our online studio, you'll be able to download a free digital proof, and as you customize your kids' birthday party invitation templates, you can create as many proofs as you'd like.
We don't offer custom samples at this time – but you can order a small batch of kids' birthday party invitations. This is a cost-effective way to see and feel the invites before you fully commit. After reviewing the color and paper, reordering more is quick and easy. If you want to make any updates, you'll be able to edit your design in our studio. Either way, your order – and satisfaction – is absolutely guaranteed.
Along with your child's name and age, include the time and location of the party, your contact information and a deadline for when guests should RSVP. Fortunately, our kids' birthday invitation templates already have designated text boxes for all these details, so all you need to do is fill in the blanks! If you'd like to add a message or any other information to your invitations, you'll have the option to create more text boxes.
Product Options
Standard Matte - 271gsm (14pt) Uncoated
14pt
Uncoated cardstock, smooth surface for a crisp design and photo quality.
Feel: Lightweight, with a crisp, clean surface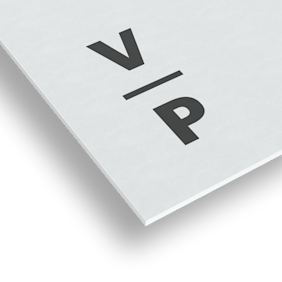 Premium Matte - 325gsm (16pt) Uncoated
16pt
Thick cardstock, a premium version of standard matte, option to add foil
Feel: Sturdy, with a crisp surface, adding foil creates a smooth finish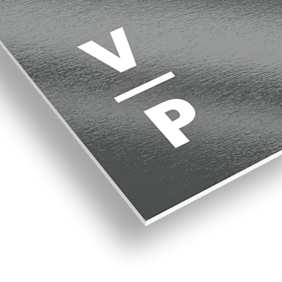 Premium Glossy - 265gsm (16pt) C1S UV Gloss Front
16pt
Sleek, shiny front, best for vibrant colors and modern designs.
Feel: Thick, with a slick front & silky back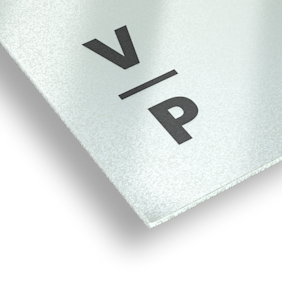 Pearl - 350gsm (16pt) Pearl Ice
16pt
Thicker paper, pearlescent sheen with a smooth, polished feel.
Feel: Soft, elegant finish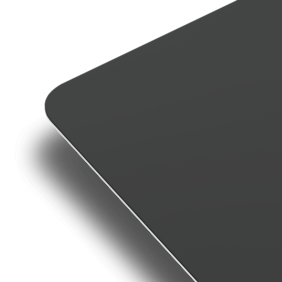 Rounded
A curved edge gives an unexpected modern touch.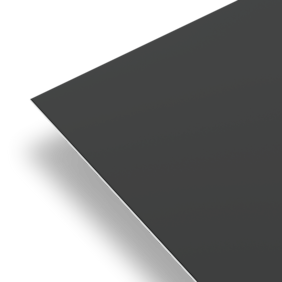 Standard
Traditional square corners offer a crisp, clean look.