Birth Announcements
Give loved ones a glimpse of your long-awaited cutie.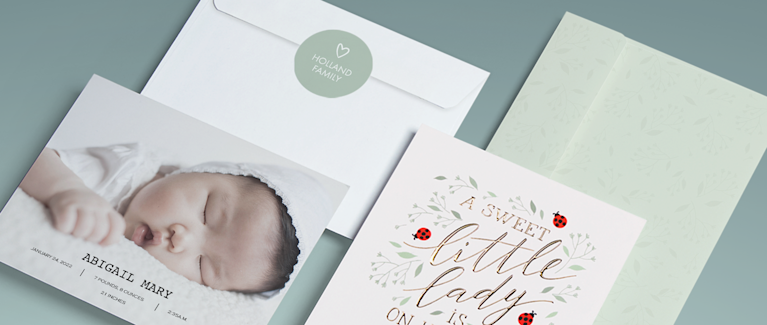 Show off those chubby cheeks with custom baby announcement cards.
Congratulations! There's a new tiny person in your life. And if you're like us, you think something this wonderful calls for more than a mention on your social feed. Baby announcements serve as a joyful introduction for your friends and family - and an official first photo they can hang on the fridge or in the office. We have baby announcements in a range of styles, including traditional, modern and gender-neutral options. Simply browse our gallery to find a card that fits your little dumpling's temperament and personality. Then start designing – our intuitive design process makes it easy to add details like a name, birth date, picture(s) and more. After that, we'll take care of the rest: We'll print, package and deliver your birth announcements right to your door, all ready to send - as a new parent, doesn't *that* sound nice?
Frequently Asked Questions
Yes. Before adding your baby announcements to your cart, you'll have a chance to include envelopes. Please note that you'll receive one envelope for each card. If you'd prefer to skip the envelopes altogether, you'll be able to do that too.
Yes. With our Graphic Design Services, you can work with a professional designer to update one of our existing templates – color changes, photo retouching and more. And if you're interested in a truly one-of-a-kind design to introduce your little one, we're eager to help.
Yes. As you create your baby announcement cards, you can download a digital proof of your design – for free. This makes it easy to double-check your work or share your ideas with others. Even better, you can create as many proofs as you'd like.
We don't offer custom samples at this time – but you can order a small batch of 10 birth announcement cards to see your design in person. This is a cost-effective way to see and feel whether the color, paper and size is exactly what you want. If it is, reordering your cards is quick and easy, and if you want to make any updates, you can edit your design in our online studio.
Anyone you'd like! Mail a card to whoever you feel would be excited by news of your little one, friends and family included. However, with that said, popular etiquette says it's traditional to send birth announcements to anyone who attended your baby shower. You might also consider sending cards to those who assisted with the pregnancy and birth, such as an OB/GYN or midwife.
Birth announcements traditionally contain the baby's name, the parents' names and birth details such as the birth date, weight and length of your baby. Feel free to include the names of any siblings in your baby announcement cards too!
It's common for couples to send baby announcements no later than six months after their baby arrives. That being said, many parents like to send them earlier, as doing so captures the newness and excitement of this special time.
Product Options
Standard Matte
14pt
Uncoated cardstock, smooth surface for a crisp design and photo quality.
Feel: Lightweight, with a crisp, clean surface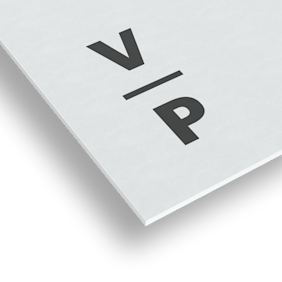 Premium Matte
16pt
Thick cardstock, a premium version of standard matte, option to add foil
Feel: Sturdy, with a crisp surface, adding foil creates a smooth finish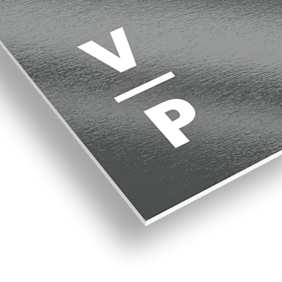 Premium Glossy
16pt
Sleek, shiny front, best for vibrant colors and modern designs.
Feel: Thick, with a slick front & silky back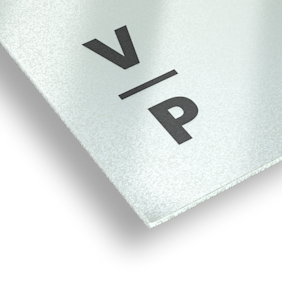 Pearl
16pt
Thicker paper, pearlescent sheen with a smooth, polished feel.
Feel: Soft, elegant finish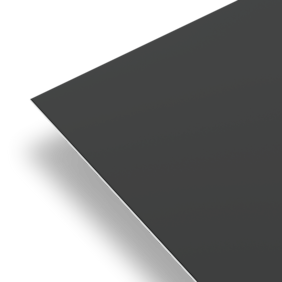 Standard
Traditional square corners offer a crisp, clean look.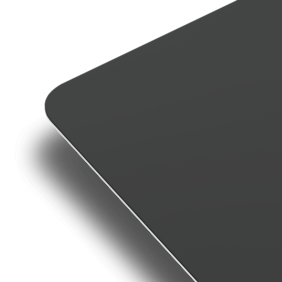 Rounded
A curved edge gives an unexpected modern touch.